Machine Cutting Torches and Cutting Nozzles

1.MS 932 FLEXIBLE AND SAFE
The MS 932 is very versatile. It can be used with all fuel gases and is very safe to operate. The torch design prevents flashbacks even when piercing heavy, thick materials.
MS 932 SYSTEM
MS 932 Torch including throttle valves and check valves
Nozzles for all fuel gases
Supply hoses- NFPA rated
Regulation equipment
Torch holder- mounts to all cutting machine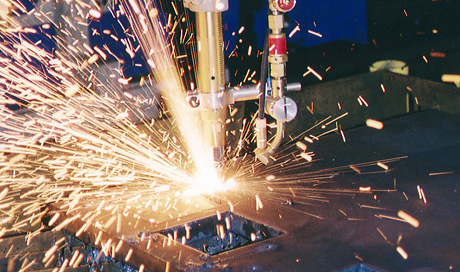 (FOR AUTOMATED CUTTING PROCESSES)
Only the cutting nozzles are changed when going from one material size to another.
Throttle valves controlling the flow of gas and oxygen can be replaced individually.
Oxygen consumption is lower, which reduces the cost of utilities. This is achieved without any loss of cut quality or cutting speed.
The arrangement of the nozzle holes and preheat slots make cleaning easy with MG nozzle cleaners.
Each nozzle is individually tested for assured quality.
No need for tools to change nozzles. This reduces the cost of stocking many nozzle sizes.
Risk of misaligning the torch when changing nozzles is thus eliminated.
Drastically reduces set-up times.
Can be used with the OL-200 oxyfuel lifters.
2.ALFA THE OXYFUEL MACHINE CUTTING TORCH OF THE FUTURE
The Messer Cutting Systems globally developed ALFA Oxyfuel torch takes oxyfuel cutting to an entirely new level. The ALFA torch internalizes many features that used to have to be on the outside of an oxyfuel torch, including height sensing and auto-ignition.
The torch nozzle is changed without tools, eliminating the possibility of misaligning the torch, which drastically reduces set-up time. Once the cap is unscrewed, the nozzles are free and can be easily replaced or checked.
There are no sensors to change for different thicknesses of material, and the ALFA torch is able to effectively cut right up to the edge of the plate. Slag, mill scale, and moisture have no effect on the height sensing of the ALFA torch.
The magnetic height sensing is fully integrated into the torch with no external parts. Sensing ring and additional cables are no longer present, so there is no wear of the sensor and no need to change it for different material thicknesses. Better material utilization through better sensing right up to the edge of the plate.
The Sensomat® ALFA height sensing is easy to use with a digital display of the current operating status. With the ALFA torch, fast nozzle change is possible without the use of tools. Set-up times are significantly reduced.
Totally integrated height sensing with no external parts
Magnetic height sensing integrated into the torch
No need for sensing ring or additional cables and thus no sensing rings to wear out
No need to change sensing rings for different material thicknesses
Able to sense right up to the very edge of the plate; giving optimum material utilization
Slag, mill scale or moisture no longer have any negative effect on the height
Digital display of the current operating status
No need for tools to change nozzles
Risk of misaligning the torch when changing nozzles is thus eliminated
Drastically reduces set-up times